An open letter to local schools from the Polish community
We are writing to local schools to ask them to include, within their teaching, elements representing Polish culture. We are asking that schools show an interest in the cultural background of their Polish pupils and, in a broader context, of the Polish community living in the UK. We are launching this initiative in light of the post-Brexit atmosphere of hostility, affirming that Polish community has become an integral part of British society.

Please read this letter and sign it in support.
6.05.2020 - Important information
Our office is currently closed. Face-to-face contact, events as well as publication of the Polish language newspaper "East Midlands po Polsku" have been postponed until further notice. However The SPS continues to support and advise Polish and East European migrants as much as possible using phone, e-mail and social media. There are also food parcels available Monday to Thursday at 9.30AM but this has to be pre-arranged. For information or help please contact us at: Phone: 0737 514 6935 (Monday-Thursday between 10 am and 12 pm, text at other times) For regular updates please visit our Facebook profile: click here.
25.03.2020 - Goodbye Peter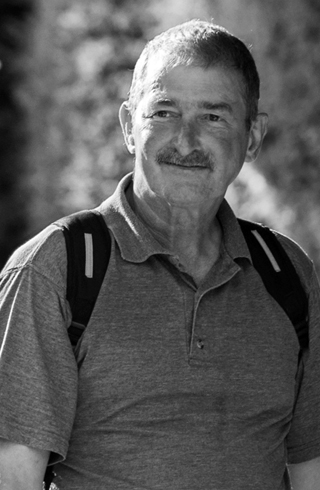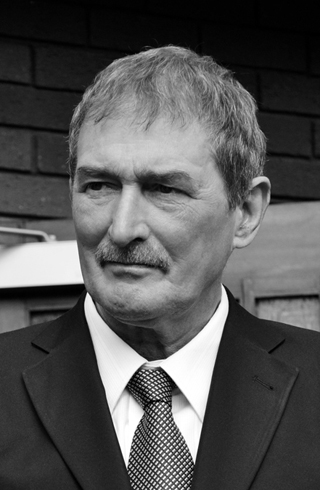 .
"Peter passed away suddenly leaving us in a state of shock and deep pain. Jagoda, our daughter, found him when she came back from school. As far as we know, it was a heart attack.
I was certain that he would be with us for at least another 10 years, that he would see Jagoda into her adulthood, through her A levels and university and that he would support me in my work and just be here with us, whenever we needed each other, sharing our lives together.
I have known Peter for more than 20 years. I wish he had told me more about his earlier life but I know he came from Somercotes and had an older brother and younger sister. He settled in Nottingham as a young man and made lifelong friends here. We met at the time when I was finishing my university studies in the UK.
When we went to Poland for the first time, he instantly developed a rapport with my then young nephews and my late father. He took my nephews sledging, took them for Christmas shopping and played hide and seek with them. With my father, he liked to have a glass of vodka (in fact more than one glass). One couldn't believe how well they got on talking, my dad did not speak any English and Peter could say only a few words in Polish. The same applied to the evening talks with my older brother, which Peter liked a lot. Peter loved our trips to Poland, liked being in the countryside, going for walks with our dogs, liked being with my family. Later on as his health problems developed these trips became more challenging and less enjoyable for him. But for the last 20 years every Christmas, every summer and nearly every Easter he was a member of my family.
In 2004 an EU enlargement took place which meant that there were hundreds of Polish people arriving in Nottingham, lost and in the need of help when establishing their lives in the UK. Peter – together with some other people close to me – helped me to set up the Signpost to Polish Success, an organisation that since 2005 supported mostly Polish migrants in settling into the UK. He was one of the co-founders, its chairman and the person without whom the Signpost to Polish Success would not have happened or be what it is today. He talked about English traditions during our English language courses, took newcomers on the SPS trips through The Park, The Castle and the Lace Market, explaining Nottingham's rich and diverse heritage. He was the English speaking compere during our Polish music 'FestiWal 2009 – A Community Festival with a Polish Flavour' on the Forest Recreation Ground, our interviewer during our 'Polish Heritage in the East Midlands' Project, our proof reader, critical reviewer, our ambassador and my best and the most reliable support. He was our political commentator and he wrote for our Polish newspaper East Midlands po Polsku. Peter also helped our clients personally, writing letters for them or making phone calls on their behalf. And that is what he did the day before he died, he came to our office and saw a few needy clients.
Our lives changed in 2008, when Jagoda was born. I was not sure what name to give her, it was Peter who started calling her Jagoda as soon as he saw her. She became the most important person for him for the rest of his life. They were best pals, Jagoda loved his games, reading with him and listening to his stories. She would walk towards him with her favourite nursery rhymes and he always found the time to read to her. He even read Polish language basic books to her like 'Zabawki'. Peter made toys for Jagoda, one of the most memorable was a banana box train in which he would pull Jagoda sitting surrounded by her toys through the house. I was bad cop and he was good cop. Jagoda wanted to wear the same red dress all the time, I started hiding it because with time it looked very worn out. Peter would always find it, wash it and dry it so she could put it on as soon as I left for work. When they went to town together, they often went for chips at McDonalds, making up some stories together so they could avoid telling me about it.
I loved our trips to Poland. During our long driving through Europe Peter always read children's books to us which we all loved to listen to. I am also happy that together we were able to show Jagoda interesting and unforgettable places . We visited the Polish National Park (in Wolin) with bisons, and spent time in Paris and London. We especially enjoyed our last trip to London during which Peter took us to museums which he visited himself when he was a child.
Peter was a very tolerant, open-minded and inquisitive person. He loved reading, listening to music, was interested in history and politics. He always voted Labour. He influenced my outlook, opened new perspectives for me and made me see the world in a different light. I used him as if he was my personal Google search engine or a Wikipedia. He always had an answer…
When he left me on the 12th of February he left me our wonderful Jagoda to look after and our organisation, The Signpost to Polish Success, to lead. I will do my best to manage both.
Peter's funeral will take place on Friday the 27th of March at 3.30pm in Wilford Hill Crematorium. Due to the restrictions imposed by the prime minister Boris Johnson to fight the coronavirus only 10 people can attend the funeral. It means that on this day we won't be able to say 'Farewell' to Peter in the way we hoped or share it with others who would wish to join us. At a later date therefore, after the pandemic stops spreading, we will organise an evening for everyone who would like to remember Peter together and reminisce about his life. Everyone who would like to join us will be welcome."
Beata Polanowska, Peter's wife
This text is a tribute, prepared for the Funeral Ceremony
10.05.2019 - Children's Day in SPS!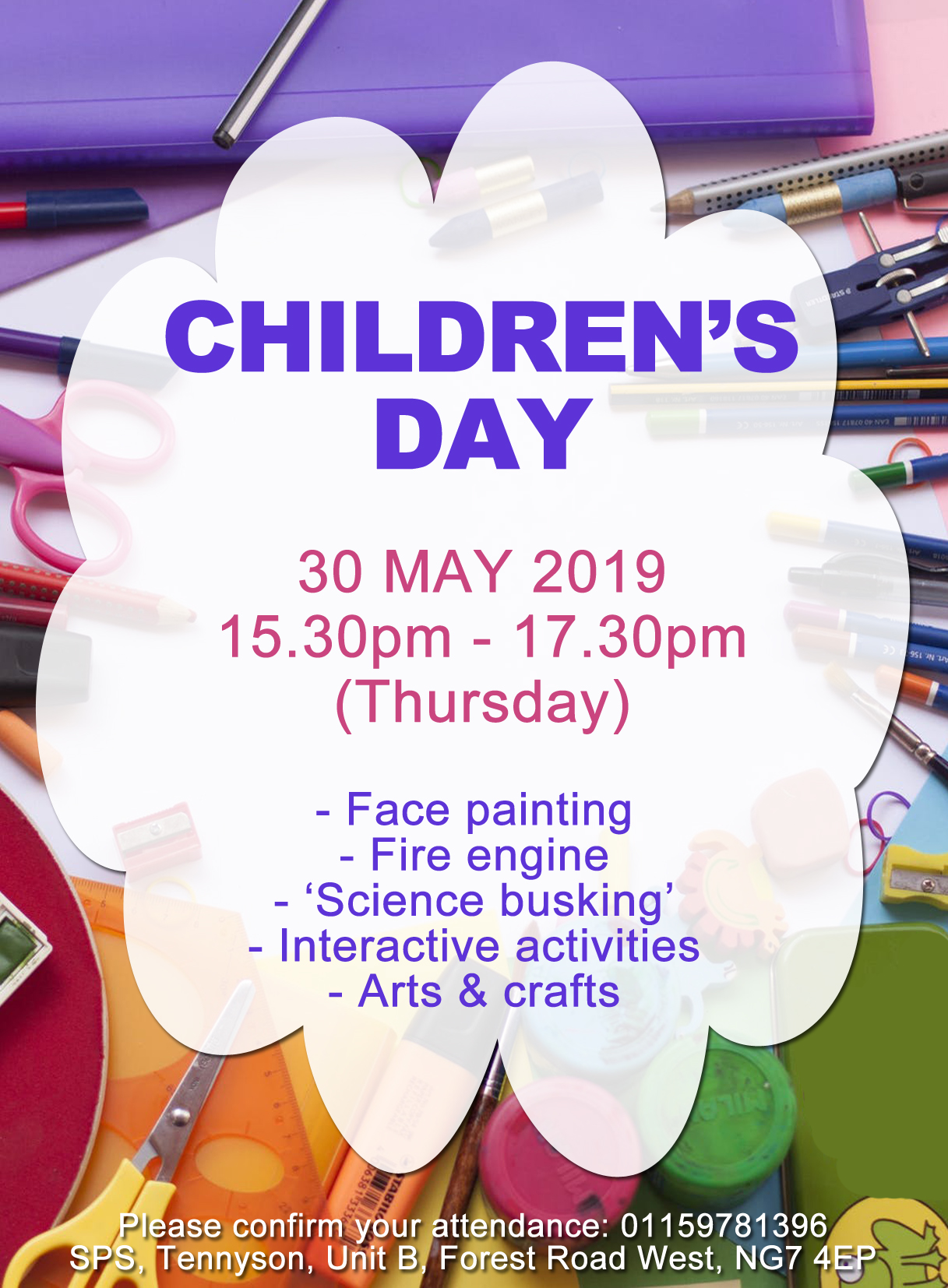 17.01.2019 - Information workshop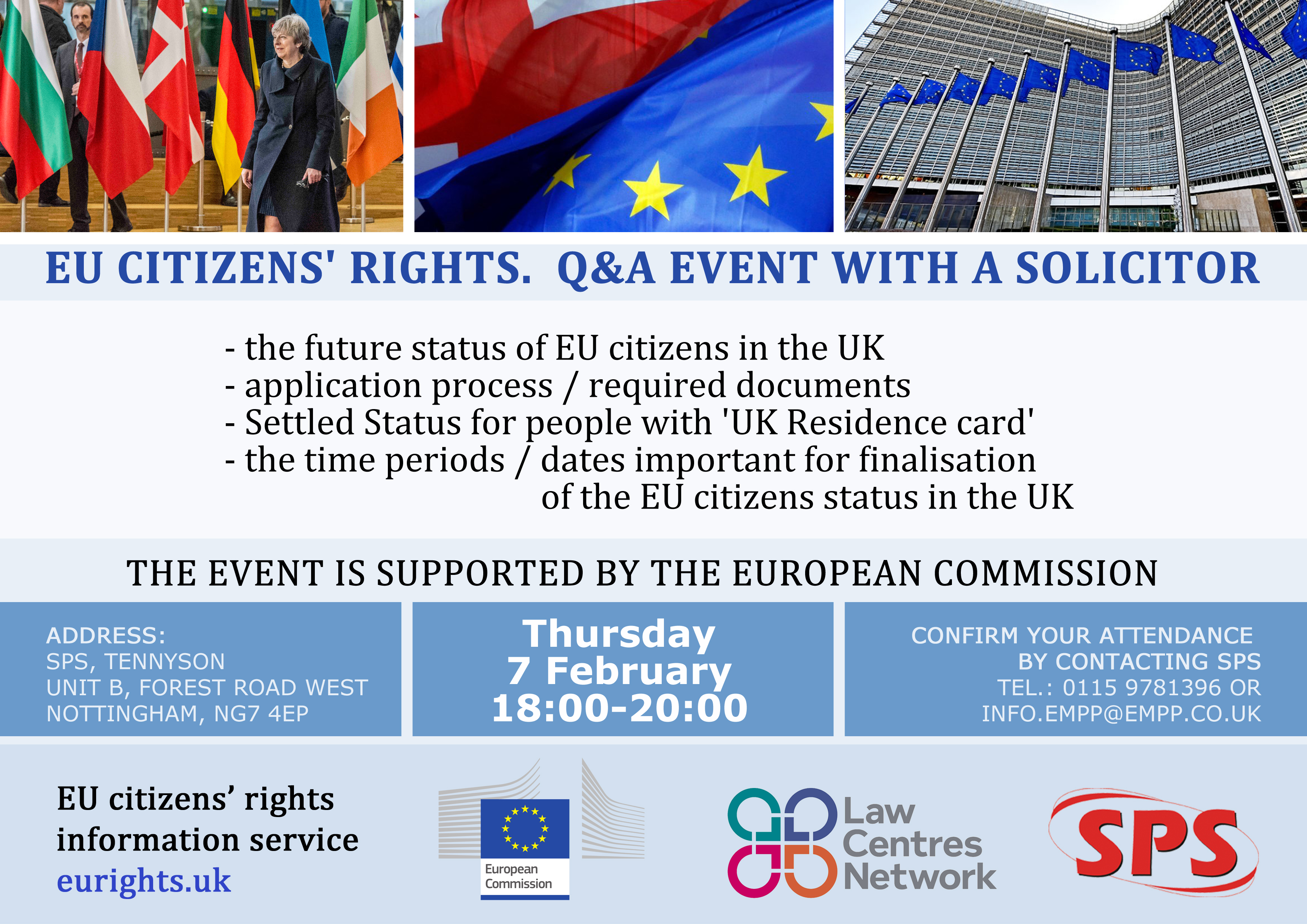 18.12.2018 - Nottingham City Council Sports and Leisure Recruitment Evening
Nottingham City Council are looking to recruit to a number of exciting vacancies at our eight Leisure Centres across the city. For more information, click here.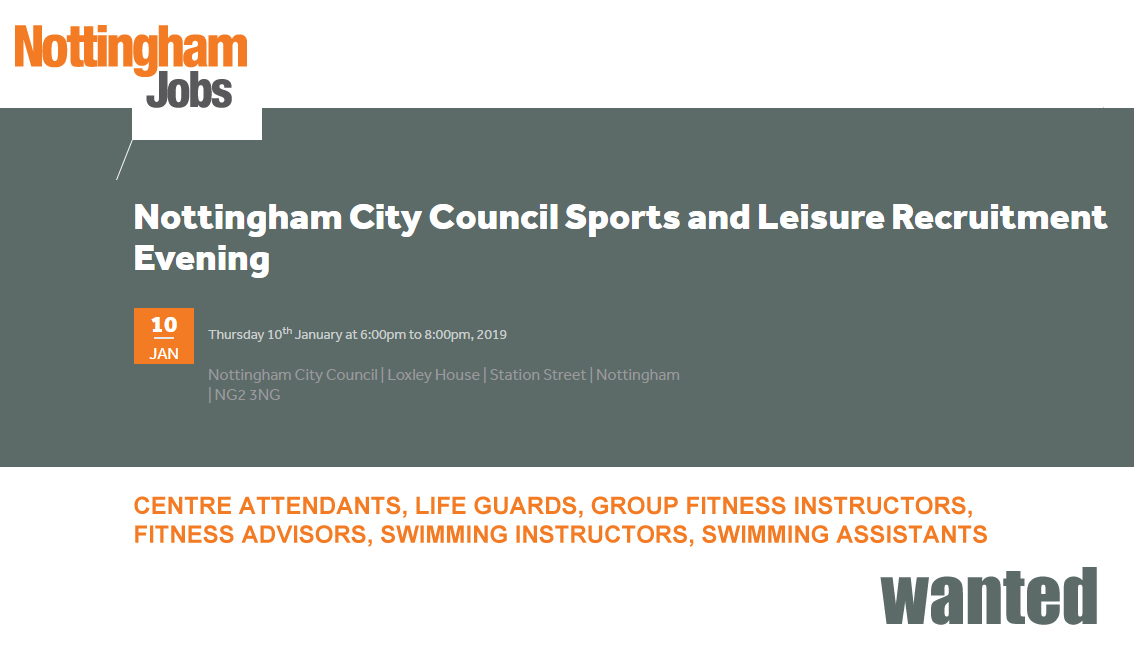 11.12.2018 - Wielka Orkiestra soon in Nottingham!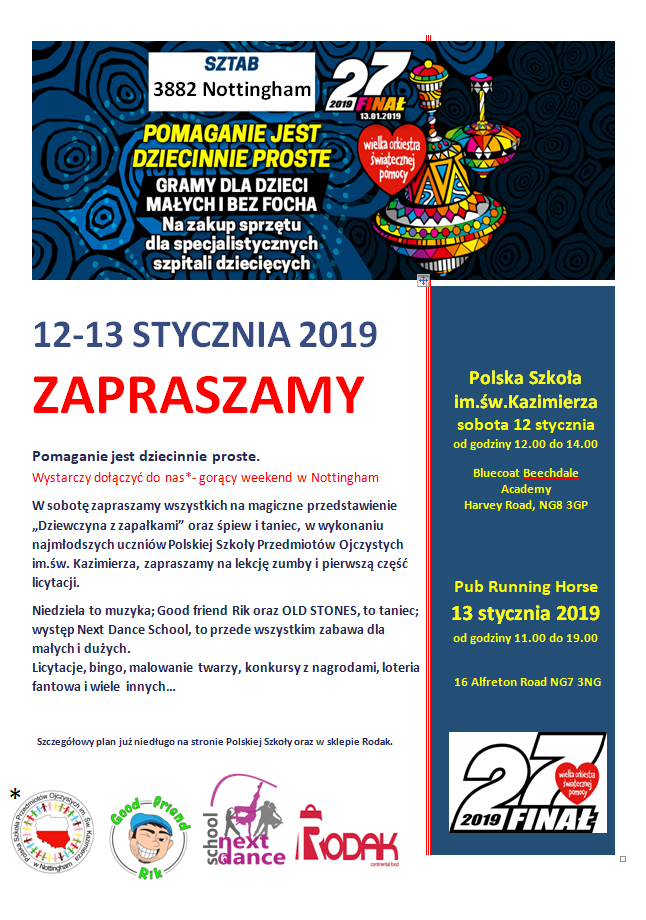 28.06.2018 - New development
We are now able to offer room hire facilities. For more information visit room hire page
Unit B Tennyson, Forest Road West, Radford, Nottingham NG7 4EP tel. 0115 9700442 or 07851307314
Nearest bus stops: Alfreton Road, near Forest Road junction ('Dixy Chicken' corner takeaway) Buses 77, 78, 79, L4, L13, L14. Nearest Tram stop: 'High School', then walk west along Forest Road West towards Alfreton Road. Vehicle and disabled entrance is via entry phone by the main gates opposite Gamble Street, at the Alfreton Road end of the building. There are gated access steps for pedestrians to the right of the main gates
09.10.2018 - Praca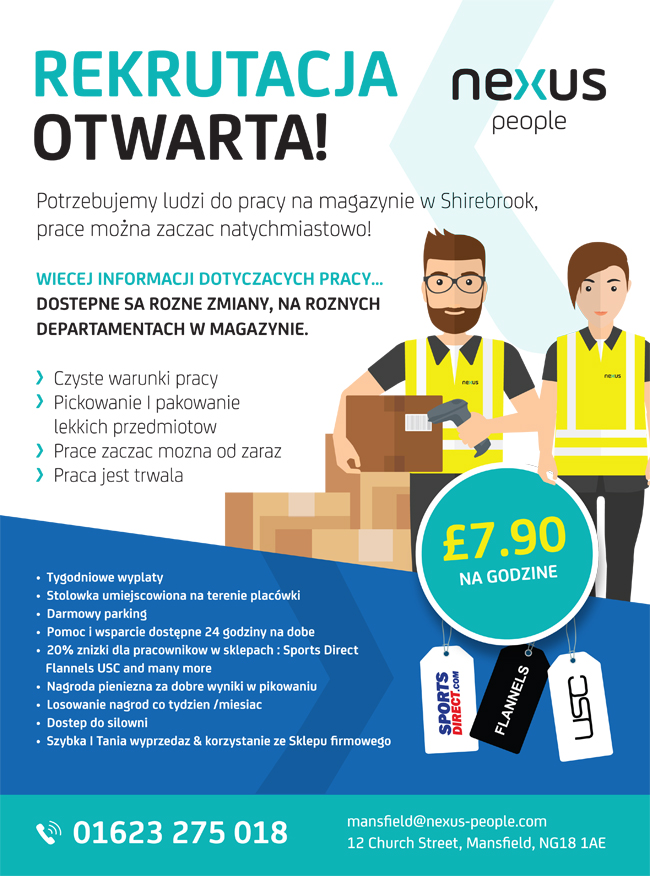 25.09.2018 - Praca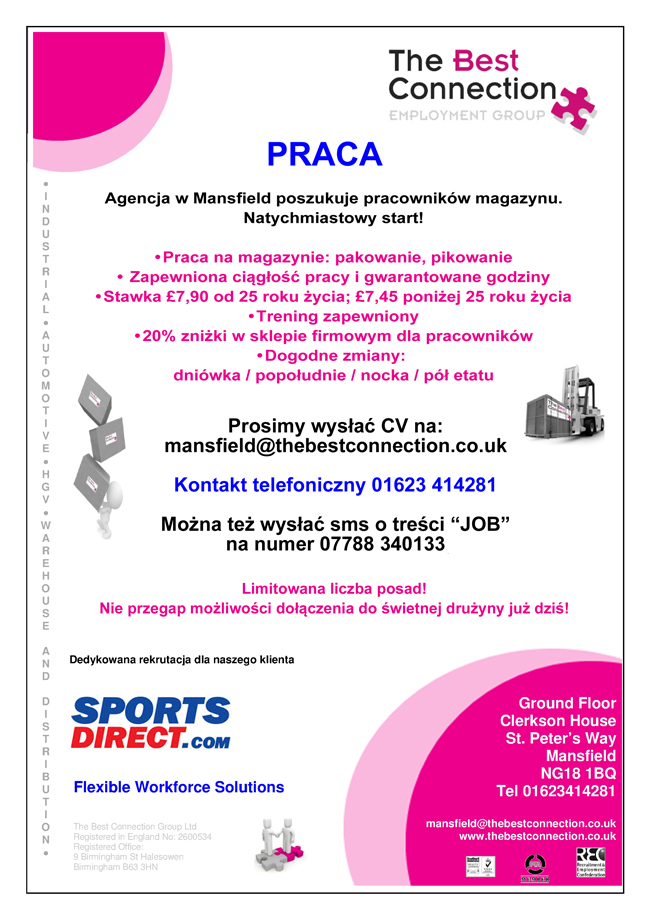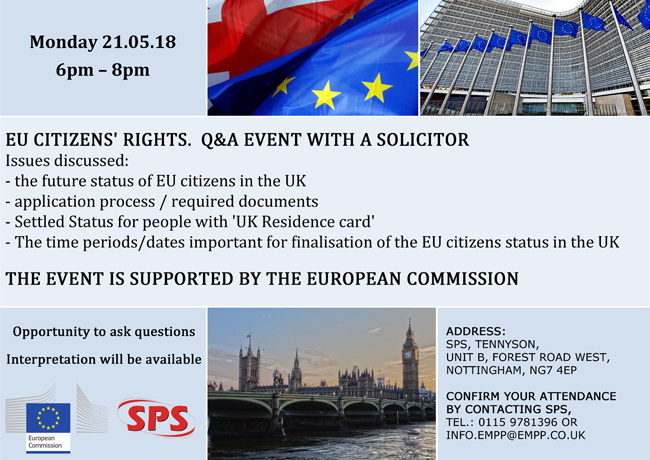 10.11.2015 - 75th Anniversary in Calverton
In Memory of three Polish airmen who gave their lives to the Allied cause.
29.10.2015 - Eastern European report
This report provides findings from a research project that focused on Eastern European migrants in Nottingham, conducted by an Eastern European Outreach Worker.
27.07.2015 - SPS Questionnaire
We are the only organisation in Nottinghamshire that provides services specifically tailored to the needs of Polish and other Eastern European migrants. Now we are applying to BIG Lottery again (we have been successful with the first stage of the application) and we need your support by completing this questionnaire.
28.07.2015 - 12 August Celebration
Two tribute events to be held at 2:30pm - 14:30pm on Wednesday 12th August 2015 at two location at the same time - one by aviation historian Malcolm Cullen, of Marloes Dale Pembrokeshire West Wales and a 2nd one at Newark Cemetery by Alan Brooke Newark RAFA Club with support from Friends Of Newark Cemetery.
28.07.2015 -
Maria Magon nee Czajkowska 9.5.1921 -28.8.1994.
Lived in St Annes in 1960's. Moved to Birmingham after her marriage broke up and lived with her Father.
Looking for relatives or friends who can help. My name is maria. I was born Veronika in St Annes 1963.
If you have any relevant information, please write to:

28.07.2015 - Bridlington Park
Bridlington Street Fun Sessions
Thursday 30th July 2015
Thursday 13th August 2015
4.00pm to 8.00 pm
17.03.2015 - Inside out
INSIDE OUT on the 23rd of March on BBC1: A report on the untold story of why Polish people came to settle in the UK at the end of the 2nd World War will be broadcast at 7.30pm (subject to changes due to the FA Cup).